Messanges, ocean of nature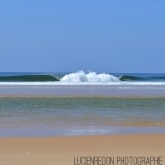 Our Gascon little village welcomes you between sea and forest for a happy holiday with family and friends: surfing on the famous french Atlantic Coast, lazing on the beach, party in local festivals and enjoy entertainments in Messanges and Vieux-Boucau, romantic sunsets with feet in the sand, local markets and craft, nice little restaurants …
Charm of the Landes beaches
Sea, sand and sun… a dream within reach of flip flops on the South beach of fine sand in Messanges to spend real holiday, relax and recharge batteries… Supervised beaches during the summer for your safety, a surf school to get acquainted with the ocean and introduce you to the joys of surfing…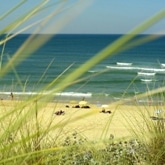 Cycling on the bike path and mountain biking
The old railway line linking Soustons to Leon has been transformed into a bike path and offers a nice stroll to the heart of the Landes forest. You can ride a bicycle safely with family and discover the ancient small stations rehabilitated along the way and have a few gastronomic and artistic stops.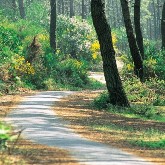 You can also discover our beautiful region by mountain biking through the Landes forest or other circuits a little more inland and in the Basque Country with routes for all levels.
Pleasure of senses and Art
You will enjoy a few moments of sweetness in the pine forest: sun light through trees creates an unreal atmosphere, colors ferns and gorse, and awakens nice fragance of pinewood.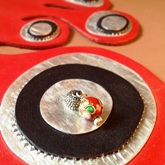 Enjoy your holiday time and visit our local artists:
Ulla at the Poterie du Héron in Messanges,
Marie and her artist studio of jewelry design Piok in Léon,
Didier, talented sculptor from Messanges…
Nature at its purest
Also discover our rivers, lakes and marshes and their secrets: on foot, by boat or canoe, you can discover these unusual and unspoiled places.
Discover the extension of the natural reserve of Huchet with Au Fil de l'Eau…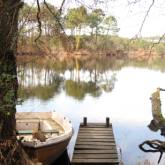 Fishing
You will go and explore our rivers, lakes and marshes and their secrets: on foot, by boat or canoe, you can discover these unusual and unspoiled places.
Golf
Messanges is about 3km from the Golf of Moliets and with 9 and 18 holes along the ocean in an idyllic area.
Local Gascony Food
When you'll visit us, we will recommand you some places not to be missed in Messanges and around to rhave delicious gascone food and other sweets…
Go to Fabienne at La Grange aux Pierres and enjoy a delicious meal in this unusual and artistic place…
And visit Didier Faget and his craft chocolate factory Chocolaterie L'Etalon Noir…
Some places to discover around
Capbreton and its fishing port
Hossegor, European capital of surfing with its nice seafront in Basque-Gascony style
Dax, Roman and spa town
Bayonne and its picturesque old town where you can enjoy a delicious axoa
Biarritz, beautiful and proud on its rock
St Jean de Luz, St Jean Pied de Port and other remarkable cities and villages of interest
Where to stay in Messanges?
Many campsites offer quality services for all your needs …
The Camping Albret Plage*** welcomes you in a family wooded park with direct access to the beach of Messanges Surf School
Camping Airotel Le Vieux Port***** with direct beach access to our surf school
A friendly welcome from Bernard & Marylis in a comfortable campsite Camping de la Côte**** roughly 1km to the surf school
Camping Airotel Lou Pignada***** with easy access to the beach by the cycle path
Exceptional and friendly atmosphere for Les Acacias campsite***
Anne-Marie and Sandrine will greet you with a warm welcome and a good Gascony Landes mind at Le Moussaillon campsite***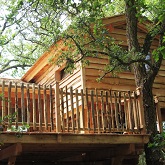 You can also enjoy the comfort of beautiful villas between forest and ocean …
We wish to welcome you personally at La Cabane de l'Océan, a treehouse on stilts for unusual holidays in the heart of nature.
Villa Lahari, a lovely villa made of wood with pure lines in the heart of nature
3 beautiful villas in Messanges where you live in harmony with nature… La Villa des Landes, La Villa des Bois and La Villa du Golf
CBE Horizon welcomes your groupes in a nice holiday center next to the sea lake of Vieux-Boucau.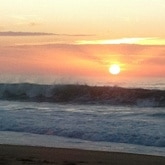 To find out more…
Transports
To join the surf school or the surfcamp (CBE HOrizon) from the train station of Dax: : take no. 7 RDTL bus line and then from same bus stop no. 3 YEGO bus line